Bute vs Miranda/ "Mister KO", victorie spectaculoasa in runda 3
Montreal, Centre Bell. Toata lumea buna a boxului este prezenta, iar partida este transmisa de HBO America. Lucian Bute, romanul adoptat de canadieni, intra in arena pe "Where the streets have no name" a celor de la U2 in aplauzele frenetice a peste 15.000 de oameni.
Spectacolul dureaza insa putin, pentru ca "Mister KO" prinde un upercut fulgerator de stanga in barbia columbianului, iar Miranda face cunostinta cu podeaua. Bute isi apara cu succes pentru a cincea oara centura de campion mondial (categoria supermijlocie, versiunea IBF). "Oboseala si orele de antrenament sunt uitate cand aud fanii cum imi striga numele la finalul meciului. Sunt pregatit pentru orice adversar"- Lucian Bute (HBO America).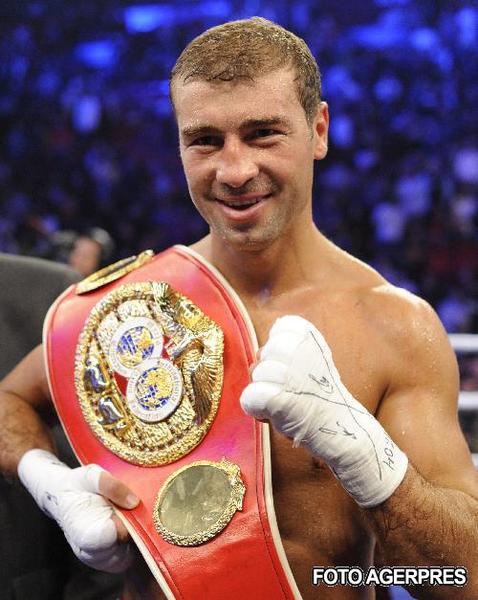 "Am muncit mult pentru acest meci, am luat in calcul toate posibilitatile. Am incercat inca de la inceput sa imi impun ritmul, stiam ca asta este secretul. Dupa ce am preluat controlul disputei, totul a fost usor. Am fost pregatit foarte bine si am facut orice sacrificiu ca centura sa ramana la mine. Am lovit puternic de alte doua ori inainte de KO, am stiut ca sufera din privirea lui, cu toate ca nu a vrut sa arate asta. Din aproape in aproape pregatesc fiecare lupta, totul trebuie luat pas cu pas. La final totul este deosebit cand lumea este multumita de tine si de ceea ce a vazut. Sunt deschis pentru orice confruntare"- Lucian Bute pentru HBO America.
In fata unei sali in extaz, romanul a ridicat, pentru a cincea oara, centura de campion mondial - categoria supermijlocie, versiunea IBF.
Vezi aici desfasurarea meciului Bute vs Miranda:
Runda III
Comentatorii postului HBO il dau pe roman castigator al primelor doua reprize. Romanul are o serie impresionanta, iar Miranda cade dupa o lovitura puternica primita de la Lucian! Partida s-a incheiat dupa un upercut de stanga in barba a lui Lucian. Miranda a cazut ca fulgerat, a dat semne ca se ridica, dar nu a mai fost in stare!
Runda II
Lucian a reusit o directa de dreapta buna, columbianul nu prea insa sa acuze lovitura. Romanul incearca sa se fereasca de directa de dreapta a lui Miranda (are o lovitura fulgeratoare). Bute a terminat runda a doua cu doua upercut-uri. Pare o repriza in care Edison a dominat usor.
Runda I
Cei doi pugilisti s-au studiat in primele minute, fara lovituri importante. Bute i-a luat pulsul adversarului cu o scurta serie stanga-dreapta pe finalul reprizei. Miranda nu a auzit gongul si a incercat sa loveasca dupa acesta
Romanul lupta intr-un sort rosu, in timp ce columbianul are un sort negru
A inceput partida, intreaga sala striga "Bute, Bute!"
Bute este foarte concentrat, partida este gata sa inceapa, arbitrul da ultimele indicatii
Lucian Bute se afla in coltul rosu, romanul este aplaudat frenetic de canadieni
Crainicul salii anunta palmaresul celor doi jucatori
Lucian Bute a intrat in arena in aplauzele intregii asisente. Romanul a fost acompaniat de melodia "Where the streets have no name" a celor de la U2
Miranda a intrat in Centre Bell fara sa fie aplaudat de spectatori. Majoritatea il asteapta pe Bute
Lucian Bute (26-0-0, 21 KO)
Edison Miranda (33-5-0, 29 KO)
Lucian Bute, campion al lumii
Lucian Bute a devenit campion mondial pe 19 octombrie 2007, atunci cand l-a invins prin KO in repriza a 11-a pe columbianul Alejandro Berrio. Dupa acest moment, "Mister KO" si-a aparat centura in cinci randuri: pe 29 februarie 2008 l-a batut pe americanul William Joppy (KO tehnic in repriza a-10-a), pe 24 octombrie a trecut de Librado Andrade (dupa o partida controversata, romanul a castigat la puncte), pe 13 martie 2009 a castigat prin KO tehnic in fata lui Fulgencio Zuniga, pe 29 noiembrie s-a impus categoric prin KO (in repriza a patra) impotriva lui Librado Andrade, in timp ce pe 17 aprilie 2010 l-a zdrobit pe Edison Miranda (Columbia) dupa numai trei runde. A fost cea de-a 21-a victorie prin KO a galateanului.
Lucian Bute - campion mondial IBF, categoria supermijlocie, si-a pastrat centura deja de cinci ori
Bursa pugilistului pentru meciul cu Miranda: 1.3 milioane de dolari
Palmares la profesionisti: 26 de victorii (21 prin KO), 0 egaluri si 0 infrangeri.
S-a nascut pe 28 februarie 1980 (Pechia - Galati) si are 1.88m si 76.2 kg
Antrenor: Stephane Larouche.
Nota personale:Dupa parerea mea, este singurul roman dupa Hagi, Nadia Comaneci, Nastase, Patzaichin, Szabo cu care ne putem mandri.
sursa sport.hotnews.ro