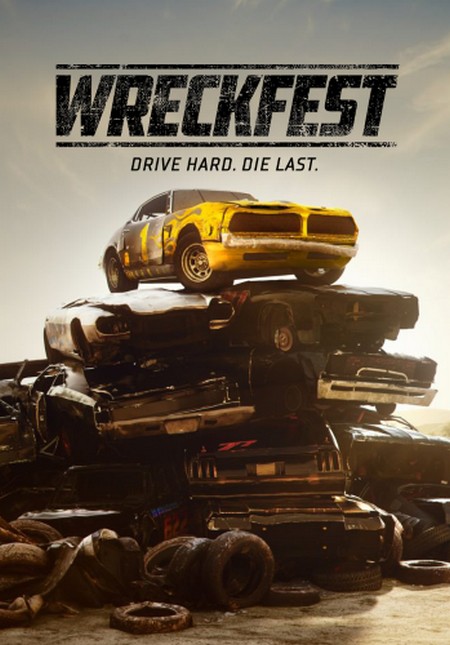 Feb 13, 2020 - Rusty Rats| PC | Developer : Bugbear | Publisher : THQ Nordic | 15.12 GB
Interface language : Russian, English, MULTi12
Genre : Action / Indie / Racing / Simulator / Sports
Forget the rules! Wreckfest is full contact and no mercy! Epic clashes, a serious fight to the finish line and a million ways to bend and twist metal - this is what awaits you in Wreckfest, a new racing game with ultra-realistic physics simulation from the legendary developer Bugbear, who presented the world with FlatOut 1 & 2!
Minimum system requirements :
- Operating System: Windows Vista
- Processor: Intel Core 2 Duo 2.4 GHz or AMD equivalent
- RAM: 4 GB RAM
- Video Card: NVIDIA Geforce GTX 560 or AMD Radeon HD 6850
- DirectX Version: 11
- Sound Card: DirectX-compatible
- Hard disk space: 22 GB
Burn rubber and tear metal - the game begins!
Wreckfest offers many enhancements and personalization options. Maybe you're getting ready for a survival race? Then it is better to install a reinforced bumper, roll cage, side protection and so on. Have you decided to participate in the bucket race? Then improve the engine - install new filters, camshaft, fuel system and so on. Battle races are better than Wreckfest, you will not find.
Game features
Unique gameplay
exciting racing without rules with tense moments possible only thanks to a super-realistic physical model. Take part in dizzying races, wreak havoc on crazy roads with intersections and oncoming traffic, or go to the derby arena and become the king of destruction.
Cool cars
our cars are old and battered, but very stylish and confident! From American heavyweights to agile Europeans and peppy Asians! You will not find anything like it anywhere else.
Thoughtful settings
change not only the appearance of the machine, but also its protective properties - by hanging additional iron on the machine, you increase its strength. But it also increases its weight, which affects management. Modify the car and turn it into an impenetrable tank or into a fragile, but high-speed rocket - yes, anything!
Online game
Destroy your friends and become the king of destruction!
Career mode
participate in championships, earn experience, unlock improvements and become the greatest racer in Wreckfest!
Mod support
Madness is just beginning. Take a look at the Steam Workshop, where you will find a huge selection of mods with monster tracks, new tracks, tricks with gravity and even classic maps from legendary games!
Features of repack:
- Based on the release of CODEX
- Nothing is cut / Nothing is recoded
- Game archives not opened
- Game Version v 1.255957
- Additions:
> Wreckfest - Wallpaper
> Wreckfest - Soundtrack
> Wreckfest - Exclusive Car
> Wreckfest - Team Bugbear Paint Job
> Wreckfest - Season Pass Car
> Wreckfest - Season Pass
> Wreckfest - Retro Rammers Car Pack
> Wreckfest - Backwoods Bangers Car Pack
> Wreckfest - Modified Monsters Car Pack
> Wreckfest - Goofy Roofs Pack
> Wreckfest - Steel & Wheels Pack
> Wreckfest - Rusty Rats Car Pack
- A launcher for changing the language is installed (a shortcut on the desktop) - A shortcut for launching 32-bit Windows is displayed
- Installation time 5 minutes on the HDD (Depends on the computer)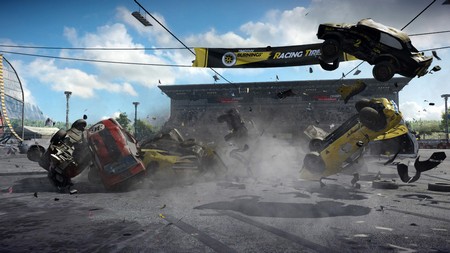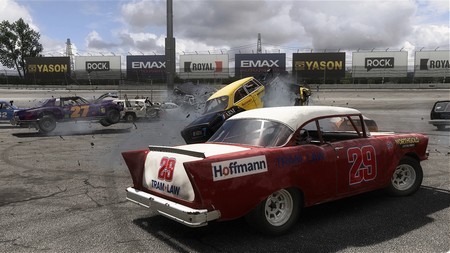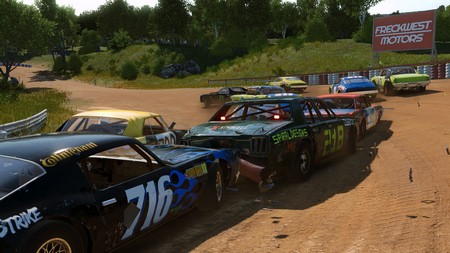 DOWNLOAD
uploadgig
Code: Select all

https://uploadgig.com/file/download/43d82450421b0429/Wreckfest.xatab.part01.rar
https://uploadgig.com/file/download/0a656fc3F428a597/Wreckfest.xatab.part02.rar
https://uploadgig.com/file/download/5C7b7928fe8E6384/Wreckfest.xatab.part03.rar
https://uploadgig.com/file/download/DBB7826cf9454126/Wreckfest.xatab.part04.rar
https://uploadgig.com/file/download/651068cAb305ce04/Wreckfest.xatab.part05.rar
https://uploadgig.com/file/download/B42934e362e9589A/Wreckfest.xatab.part06.rar
https://uploadgig.com/file/download/7131646Ce598a956/Wreckfest.xatab.part07.rar
https://uploadgig.com/file/download/c6b6b0f7Ae6af09D/Wreckfest.xatab.part08.rar
https://uploadgig.com/file/download/0e31962ac4D52EFc/Wreckfest.xatab.part09.rar
https://uploadgig.com/file/download/2068b42e3f4a0607/Wreckfest.xatab.part10.rar
https://uploadgig.com/file/download/B8134e8bA009F4cB/Wreckfest.xatab.part11.rar
https://uploadgig.com/file/download/587770D5Abd9CE5d/Wreckfest.xatab.part12.rar
https://uploadgig.com/file/download/9786a15f11221Af9/Wreckfest.xatab.part13.rar
https://uploadgig.com/file/download/0fe354d3835AB25e/Wreckfest.xatab.part14.rar
https://uploadgig.com/file/download/9615a16614a784A1/Wreckfest.xatab.part15.rar
https://uploadgig.com/file/download/4F4cd96e71D4F8ff/Wreckfest.xatab.part16.rar

rapidgator
Code: Select all

https://rapidgator.net/file/ddd369e43409480c43fb5c8a7a263af6/Wreckfest.xatab.part01.rar
https://rapidgator.net/file/c016be566dd6f1c6465204f3f3e6e60c/Wreckfest.xatab.part02.rar
https://rapidgator.net/file/5903767935e46bd2cf58b71eb5f94483/Wreckfest.xatab.part03.rar
https://rapidgator.net/file/3212db123c5fb3d70bb9b3a7e2534670/Wreckfest.xatab.part04.rar
https://rapidgator.net/file/0a93db366dee7090d25529640ac45065/Wreckfest.xatab.part05.rar
https://rapidgator.net/file/1b01f3005a59570b1d7ba9941f3f0348/Wreckfest.xatab.part06.rar
https://rapidgator.net/file/388fdf4df27bda0dfe3d39aa472a7ac0/Wreckfest.xatab.part07.rar
https://rapidgator.net/file/48e02dbd0987b494b32ed320dc844d93/Wreckfest.xatab.part08.rar
https://rapidgator.net/file/3906a6b6a2c947daefc68c03c9cd03d5/Wreckfest.xatab.part09.rar
https://rapidgator.net/file/5ee79cbcdb7669482648f7235658a8b3/Wreckfest.xatab.part10.rar
https://rapidgator.net/file/daaa33897cc1d08550a9189996de8315/Wreckfest.xatab.part11.rar
https://rapidgator.net/file/c8caee9b95e2a749aa89ebfb8856d94c/Wreckfest.xatab.part12.rar
https://rapidgator.net/file/c3b3442d56240002df514a564b99f3df/Wreckfest.xatab.part13.rar
https://rapidgator.net/file/22ad78ec1be6705f6f63924166d81c97/Wreckfest.xatab.part14.rar
https://rapidgator.net/file/8a88479cb87423454f1c216d8f7aaa26/Wreckfest.xatab.part15.rar
https://rapidgator.net/file/bca9cea037ded41eca4c527f31b14f29/Wreckfest.xatab.part16.rar

nitroflare
Code: Select all

http://nitroflare.com/view/E2E74EE60EAF686/Wreckfest.xatab.part01.rar
http://nitroflare.com/view/8AD97DD397046F4/Wreckfest.xatab.part02.rar
http://nitroflare.com/view/ED953F3CA00975A/Wreckfest.xatab.part03.rar
http://nitroflare.com/view/46EE2E6C2179ED0/Wreckfest.xatab.part04.rar
http://nitroflare.com/view/936061F9B1E969B/Wreckfest.xatab.part05.rar
http://nitroflare.com/view/2883AFFC566EB83/Wreckfest.xatab.part06.rar
http://nitroflare.com/view/1DB78FE2B3427D1/Wreckfest.xatab.part07.rar
http://nitroflare.com/view/2566DEF3FC89F33/Wreckfest.xatab.part08.rar
http://nitroflare.com/view/3E3795DA10E0C2A/Wreckfest.xatab.part09.rar
http://nitroflare.com/view/7EAA596E2BA6373/Wreckfest.xatab.part10.rar
http://nitroflare.com/view/8008843D8934D22/Wreckfest.xatab.part11.rar
http://nitroflare.com/view/DE9BAB36162D19F/Wreckfest.xatab.part12.rar
http://nitroflare.com/view/3A5FF31060DB487/Wreckfest.xatab.part13.rar
http://nitroflare.com/view/4AC23B0736F9187/Wreckfest.xatab.part14.rar
http://nitroflare.com/view/5BBF97BD90BF6B4/Wreckfest.xatab.part15.rar
http://nitroflare.com/view/8F25A2C047221DA/Wreckfest.xatab.part16.rar